4 Mind-Blowing Spa Treatments in Bangalore you must Try!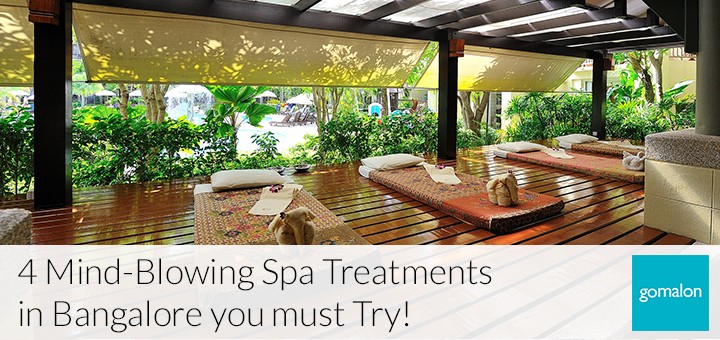 Thai Aroma Massage by TheFifthElement
Who wouldn't like a massage, particularly after being confined to desks for long hours every day? Thai aroma therapy by TheFifthElement  is a combination of the Traditional Thai and the Swedish massage with palm and thumb techniques along with some stretches to kindle the blood flow, oxygen, and energy around your body, offering you deep rejuvenation and wellness.
Ultimate Indulgence by O2 Spa
When you've celebrated the night away in Bangalore, Ultimate Indulgence by O2 Spa can help transport you back to life. An absolute treat for those looking to entirely chill out and pamper themselves in their precious "me time", this spa includes Aromatherapy Massage followed by White & Bright Facial Treatment and Whitening Body Scrub and concludes with Whitening Body Wrap.
Oriental Harmony by 2 at Body Raaga
Have you ever gotten caught by 4 hands to give you remarkable experience that inspires a harmony of the senses. This is so that moment. The Oriental Harmony by 2 at Body Raaga is a total bliss. During the session, a relaxing foot bath is given to you in purifying waters that leaves your feet supple and smooth and your mind stress-free. Then the warm scrubbing and massage given by two therapists releases blockages and align energy throughout your body. As a close second, the simultaneous head and foot massage is also a winner that leaves you fully energised.
Anti OxidantReplenishing Body Wrap by Four Fountains De-Stress Spa
This magnificent Anti Oxidant Replenishing Body Wrap by Four Fountains De-Stress Spa Treatment releases stress from every part of your body, making you feel intensely tranquil and rejuvenated. Starting with a free radical deactivating body polish, the treatment is followed by applying a mask containing natural soya protein to absorb harmful toxins from your body.