#AugustUpdate: Here's what's new at Gomalon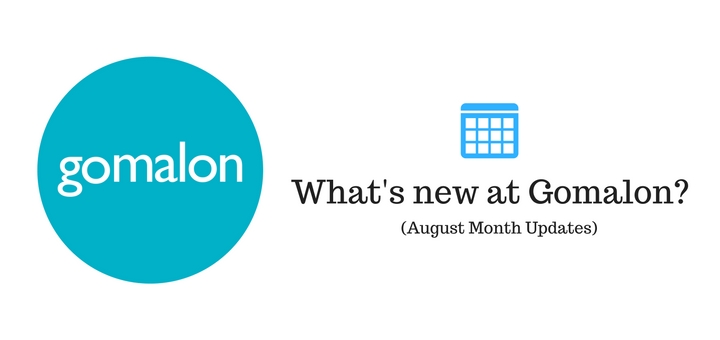 The journey this far has been great and we can't thank all of you enough for the constant support you guys give us. Gomalon as a product has been accepted, but more so, we see how much all of you have loved and encouraged GoSpa. We are excited to tell you about the new products we launched and also on some on ground activation we were part of (had fun doing it 😉 ). Let us stop and just tell you what it is,
GoAyurveda for the love of Indian Therapies
Ayurveda is an ancient medical science developed in India and a world famous system. Ayurveda means the science of life, which holds true for the therapies as it is natural and holistic. Knowing the value of Ayurveda, we could not have been a complete wellness portal without ayurvedic therapies. So here launching GoAyurveda, starting with 6 venues in Bangalore, for you to soak into the goodness of natural oils.
Book a GoAyurveda right now. Click to book
GoSpa Signature Massages
This is the most exciting thing for us now, though we are currently running just a pilot with 4 of our GoSpa venues. Want to know what it is? Our experience over the months has brought us a lot of feedbacks on experience. Taking a step ahead, to make the GoSpa experience better, we have launched a set of signature massages, where in not just the disposables, thank you gift you get, but also the oils used for it would be specially made for certain therapeutic purpose. For now, we have Detoxifying, Muscle Relaxing, Stress Relieving and Mind Relaxing massages.
These are the 4 venues you can look to avail this and make sure to give us feedbacks, considering it's a pilot we are running.
GoSpa HSR 4th Sector | GoSpa Inorbit Whitefield | GoSpa 2nd Stage Indiranagar | GoSpa Hibiscus 4th blck Koramangla
Gomalon was at #PatriotRun last Sunday
This was the first time we got a chance to meet and interact with our customers, not to forget how happy we felt looking at all our logo on all the banners and T-Shirts.

Well Gomalon was the wellness partner at #PatriotRun organized by Sportzify on 21st August'16. It was a fabulous experience as we saw people of different age groups, even a 6 year old who came to participate in the Marathon. What energy and enthusiasm, even happier to see how happy the participants were to get an exclusive coupon to redeem for a spa booking at Gomalon. It sure felt like a day well spent among them.
We hope you like our new products and continue to support us as you have. Also we look forward to meeting all of you through our other on-ground activation. Three cheers to all of you!