4 Myths about Spa that are not true at all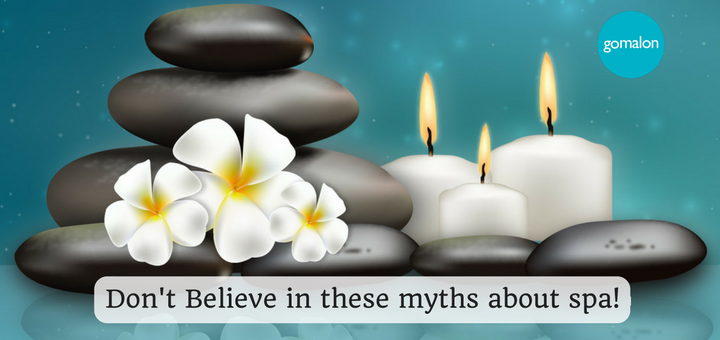 On a lazy day, as you think and crave for some relaxation, you wonder 'what can you do?'. Wishing you could go to a spa to get pampered and relax. Cursing your stars wondering, why you aren't rich and live a life of luxury. Well, you sure are wrong in thinking so. Period. Here are 5 myths about spa that is not true at all.
Myth 1: Spa is not affordable
This is cent percent untrue. There are many a places that give you great spa at the most affordable price. Yes, anyone today can go to a spa without spending a lot and yet get the same luxurious experience. Imagine, you spend about Rs.1000 for a movie for 2 and a meal. You can also get a luxurious spa at the same price.
pc: entrepeneur.com
Myth 2: Only women go to Spa
When anything about beauty or wellness is thought off, it's always assumed women are the audience for it. But as generations pass by, the trend is changing. Men are equally interested in grooming and self-care about their skin and body. You would be surprised to know, more than 70% of men visit spa. Spa is for anyone who wants to relax.
Myth 3: Spa is an over-rated way to relax
Well, definitely not. This is again connected to Myth 1, with the perception that 'Spa' is costly and only for the rich. People who are skeptical about trying spa may have tagged it this way. It is one of the best ways to relax. As not only your mind but your body too relaxes in the process. Not to forget, that your skin feels pampered and breathes easier with all the dead cells removed.
pc: NyPost.com
Myth 4: There are only beauty benefits from a Spa
This again is completely untrue. Going to a spa is not just good for your skin, but for your body and mind. The techniques used ensure the tissues, muscles in your body relax, relieving pain and stress. As the skin absorbs the essential oils, it revitalises skin. Also due to the ambience, the aroma and the silence calms your mind. So a spa ensures a 360 degree relaxation for you.
pc: twitter.com
Due to existing perceptions and pre-conceived notions, you are missing out on an experiencing. The times have changed and it's time you gave yourself the break, you deserve.
Gomalon , gives at most importance to hygiene, privacy and security at their venues. So the customers (men or women) going in to relax, need not worry about anything. You can also experience luxurious spa therapies. All at just Rs.999. Spa is what you need at times and don't stop yourself based on some perceptions that may not be true. Book a spa now. <link>