#FriendshipDay Special : The Best On-Screen Gang of friends we love!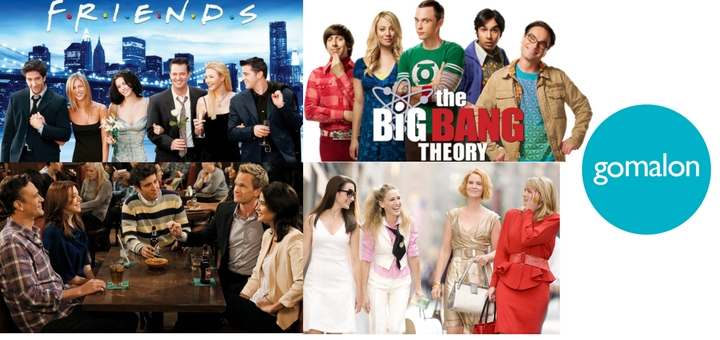 Friendship's day is in 2 days and you sure should not miss out on a day to pester your friends, irritate them, love them even more and reminisce on the great times you spent, with of course some retelling of the epic stories. With this joy and warmness, here are the four best gang of friends we love!
The 6 besties from Friends
Think about the word friends and this sitcom pops into your head. One of most loved series of all times, it gives you some serious friendship goals – may it be on the lasting friendship or to have friends' like-family or how amazing it is to live with your best friends and to meet them every day.
pc: tvseriesfinale.com
The gang of girls from The Sex and The City
Having a gal-pal gang is on another dimension all together and this series set some pretty high standards. It's not always about fashion and beauty, but standing up for her in the time of need or never choosing anything over your girlfriend, is something that bonds you for life. Cannot not say it, the fashion quotient sure broke all records in this and sometimes you would want to watch it, just for the clothes.
pc: theredlist.com
The 2 pairs of awkward friends from The Big Bang Theory
Awkward because of the relationship they share, a love-hate one but always know eachother better than anyone. The Raj and Howards relatable thoughts or Howard taking it all from Sheldon. This geeky gang does show, how love for your friends need not always be told. It can just be expressed in the various little actions in everyday life.
pc:IMDB.com
The gang from How I met Your mother
Can't point out on who really are closer to whom. The characters in this sitcom, each share a different bond with eachother, how each person have their own personalities and they are there for eachother in their own way. The better part is how easily they let go of disagreements and fights, knowing the person is more important than anything else.
pc: abcnews.com
Do you have a gang similar or more awesome than the above? Sure is a best feeling to know how you would always have them as your strength and support. Happy Friendship Day all of you.

You could make your Friendship day a little more special and different by having a 'SPA DAY' together with your friends. Have a good relaxing massage followed by a great filling dinner and you sure will be in heaven, with your friend. 😉