Get rid of that annoying ache!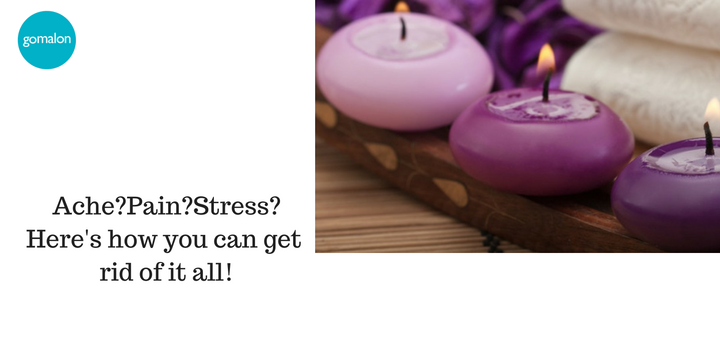 Sitting around your cubicle all day long or even sleeping in the most bizarre positions can end up giving you unwanted aches and pains. Wondering what to do to indulge in to release tensed muscles or stiff necks? No worries! There's almost always a perfect spa, that can help you get rid of that annoying ache!
Usually, it's rare for one to be familiar with the right treatment for that blissful and relaxing experience that one so desperately seeks. Here are some of the common aches/pains and what you can do, to get rid of them:
Stiff Joints
Ouch!, says that joint unable to move an inch! Not to worry, as the popular Swedish massage is shown to be helpful in reducing this pain and joint stiffness.  It can also effectively reduce lower back pain and plays an incredible role in improving ones mood. Say bye bye to ouch for sure.
Muscle tension and knots
Ever felt that you're unable to stretch your muscles or an intense muscle pull? Well, it's time you tried a Deep –tissue massage! It uses the same technique and movements as in a Swedish, but applies more pressure.  This aids in releasing muscle tension and knots.
Clear that Blockage
Experiencing breathing problems? Pain in the arm or in the chest? Thai massage is definitely your way around it! A traditional Thai massage usually combines both physical and energetic aspects. It is a deep, full body massage which progresses from the feet up and focuses on the Zen or energy lines, throughout the body. This helps to clear the blockages in the lines and thus helping stimulate the flow of blood and lymph throughout the body. It is also useful in managing conditions such as musculo-skeletal pain and fatigue.
Stress, Anxiety or Inflammation
When you feel that all the stress is getting to you, allow yourself to relax and attain Chi(life force or energy). A Watsu therapy will help you do just that! It combines hydrotherapy, floating and immersion with Shiatsu and other massage techniques. It is used as aquatic therapy for deep relaxation and other therapeutic intent.
Injury healing
Hot stone massage implements the same long stroke techniques as in a Swedish massage, except, therapists stroke the muscles with heated basalt stones. The heat from the stones is meant to improve circulation in the muscles and also aid in injury healing.
During Pregnancy
Well, all the moms-to-be as well as the to-be-newest addition to the family, needs to feel relaxed. Swedish massage is performed to help ease muscle tension in a mom-to-be's lower back, shoulders and legs. Sometimes oils are incorporated to perform an Aroma therapy  for further relaxation.
While we're not ever going to be able to completely eliminate these problems, these are some solutions to reduce their intensity. Next time when aches and pains bring you down, get rid of those annoying ache – schedule your own little getaway at a spa, even it is only for an hour!
Your mind, body and spirit will thank you for it.
Luxurious spa starting at just Rs.999 only on Gomalon. Book now.