The holy grail of #BeautyHacks for the Festive Season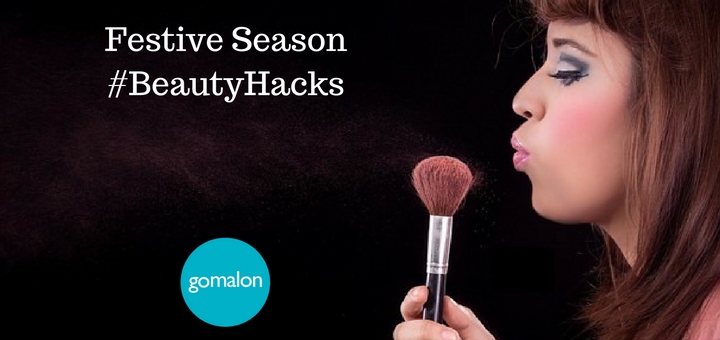 So the festive season is here and the many functions to attend. It sure is the time for you to try new looks, spruce up your fashion quotient and also indulge your skin. Remember you need to look the best and fresh all the time, even if have had a stressful work day. Presenting the holy grail of #BeautyHacks to help you stay beautiful this festive season.
Brighten your eyes immediately
Looking too tired after a stressful day at work but have a function to attend? Try this perfect cat eye look and also dab in a little shiny highlighter or eye shadow on the inner corner of your eyes. Voila to the bright looking you! (pearl works great on paler skin tones, while gold makes deeper skin gleam)
pc: makeuptutorials.com
Make-up stay longer
Use a make up setting spray to ensure your make up is long lasting. Either spray it on directly to your face and let it dry or spray it on the blender/sponge while applying the foundation.
pc: MyBeautyBunny Youtube Channel
Refresh your makeup
Too much sweating after the garba dance or just because of the crowd? Refresh your makeup and don't redo it. Yes, all you need to do is dab your face with a soft tissue to remove the excess oil. Using a cotton pad, press some toner to your face and reapply compact. TADA! Here you are feeling and looking fresh.
pc: thesmallthingsblog.com
Don't let the lipstick fade away
It sure is a hassel to keep reapplying lipstick, especially when you are hogging great food or dancing away to glory. Instead apply the base with a lip liner, followed by a layer of lip colour. Blot your lips using a soft tissue and reapply. The lipstick will sure stay on for longer.
pc: brit.co
Moisturize+ Nourish
Don't forget to double cleanse at the end of the day to remove all the make up and let your skin breathe. Use a moisturiser while going to bed and also a face mask to replenish your skin. Pamper it for a fresh look again tomorrow.
pc: homehealthbeauty.com
With this 5 easy to do hacks, you sure will be glowing this festive season. Dazzle and have fun with the holy grail #BeautyHacks. It's the simple things that could work wonders!